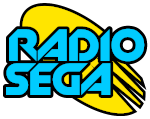 RadioSEGA
RadioSEGA is an online radio station that's been playing the best SEGA video game music 24/7 since 2006. If you love the blue company and would like to listen to LiVE shows hosted by passionate SEGA fans, head over to RadioSEGA.net and check it out. The SEGA Lounge is part of the RadioSEGA network of LiVE shows and podcasts.
Manuel Garcia Melgar
Manuel Garcia Melgar has been a collaborator of the show since its inception as well as a personal friend of mine and a partner of RadioSEGA. Responsible for all The SEGA Lounge art, he is a very talented illustrator and graphic designer. He has his own studio, From Ashes To Fire, which you can follow on Twitter | Behance | Pixiv
OSC
OSC, aka Opus Science Collective: a musician who has been crafting his musical art for the best part of a quarter of a decade and has created a distinctive sound that is synthwave but not as you know it. It's actually much more than that, defying labels and blending genres. OSC's remix of Ultra-Noob's "Megane (Glasses)" track from the Hatsune Miku: Project DIVA series is the theme song of The SEGA Lounge and he also provides all incidental music used throughout each episode from season 5 onwards.
Longplay
The podcast that plays all the music you need to hear from gaming's greatest soundtracks. Hosted by ResidentSD. Available on Terra Player.
SEGADriven
SEGADriven is a SEGA news and information source that focuses on SEGA's console history, retro games and new software hitting the shelves. It shares a love of great, quirky, clever and down-right fun games - something that SEGA have always specialised in. They also have a YouTube channel that you should definitely check out. The best place to get a cyber razor cut!
Shenmue Dojo
The Shenmue Dojo has been the most prominent online resource for Shenmue news, info and more, and also the most active community for the past 20 years. If you love the adventures of Ryo Hazuki like your host does, this is the place to be.
Terra Player
A new hub for the best video game music and entertainment podcasts. The SEGA Lounge is proud to be one of the original partners of Terra Player. With Terra Player you get easy access to thousands of podcast episodes, as well as the best video game music, courtesy of the 24/7 streams of RadioSEGA, and KNGI Network. The new place to hear the best video game music and entertainment podcasts - live and on demand!